This page has been visited
times.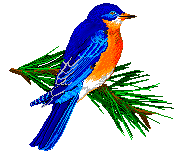 The bluebird is the state bird of Idaho. I have seen them around my house and also quite a bit while I'm hiking in the Sawtooth Mountains. My girlfriend likes them. She thinks they're friendly. My dogs, however, were afraid of them. They thought they were "magical" and possessed powers....but then again, they're just dogs.
Table of Contents
IF YOU LIKE THIS PAGE, TELL A FRIEND BY PASSING IT ON
Across the Great Divide: This is my favorite by Kate Wolf. We will miss her songs. NOTE: I received an email from Dan Scanlon (9/02) who corrects me and advises that this song was written by Bruce "Utah" Phillips and that Kate was a friend of his. Thanks for the input. BTW, Nanci Griffith has a nice recording of this also
Against the Wind: Here's Bob Segar's classic. Love to listen to it when I'm driving
A Hazy Shade of Winter: I think of unpublished manuscripts, salvation army bands and a patch of snow on the ground
All My Life's a Circle: A personal favorite by Harry Chapin
Amazing Grace: This has got to be the most moving spiritual I know. The best rendition I ever heard was done a capella at a subway stop in NYC
America: I think of all those miles hitch-hiked in the late 60s as a generation went in search of America
American Pie:Half the fun of this song is memorizing all the lyrics, and then getting into what they mean.
Angel: The first time I heard this was during the movie "City of Angels" with Meg Ryan. It has haunted me since. Thank you Sara.
A Pirate Looks at 40: Reflecting back on your own mortality and being born in the wrong era
At the Zoo: Something's happening here. Check it out. I love NY.
Babylon:David Gray's hit song; let go of your head, let go of your heart, feel it now
Bad Moon Rising' : Creedence Clearwater Revival used to practice in the bay area where i grew up in the 60s and 70s. They had this great show at the Oakland Coliseum with Booker T and the MGs.
BEATLES ANTHOLOGY: click here for an anthology of songs by the Fab Four. I get so many requests that I thought I'd just do a whole collection of their songs (also, see Neil Young's anthology at the bottom of this page)
Beach Boy Songs: click here for some fun in the sun. Three Beach Boys Songs: "Fun, Fun, Fun," "Help Me Rhonda" and "Surfin' USA"
Beyond the Sea: Bobby Darrin's hit song of 1960. He was the epitome of hip in those days. Another big hit was Mack the Knife; see below
Blowing In The Wind: Bob Dylan wrote it. Recorded by many, like PPM
Blue Bayou: One key but in two octaves. This should challenge your vocal range but it was easy for Linda Rondstadt and Roy Orbison
Blue Eyes Crying in the Rain: Fred Rose wrote it, Willie made it famous
Bobbie McGee: Kris Kristofferson wrote and recorded. Also Janis Joplin
Brandy: The Looking Glass takes a look at a girl layin' whiskey down
Bridge Over Troubled Water: This gospel type song always reminds me of Kathy Kahn from Seattle. Long story
California Dreaming: Mamas and Papas sentinel song from late sixties
Carolina on My Mind: Love to finger pick these JT songs!
CHRISTMAS ANTHOLOGY: It's a couple days before Christmas 2001 so I thought I'd add this anthology
Cherokee Fiddle: Remember Johnny Lee back in the 80s. This was back in the Urban Cowboy days. Great song.
City of New Orleans: Woody's boy, Arlo. I rode the CNO for the first time in '95
Colors: Not sure who wrote it. Heard it by Donovan
Come Monday I've got my hushpuppies on, I guess I never was much for glitter rock n' roll
Could I Have This Dance (for the rest of my life): That great Canadian, Anne Murray
Country Road: John Denver, somewhere in the Rockies
Closing time: Here's one for closing down the bars by Lyle Lovett. Just unplug those people
Crazy Love: My favorite Van Morrison. Remember the scene in Phenomenon when Kira Sedgewick is shaving John Travolta? Pretty sexy
Danny's Song: Even though we ain't got money, I'm so in love with you honey
Daniel: This is Elton John's song, not to be confused with Danny's (above)
Darling Be Home Soon A pensive reverie by John Sebastian
Daisy Jane Here's another nice one from America
Dock of the Bay Otis Redding's famous tune. It's a shame that he died before he had a chance to hit his stride. Still, this song stays with us forever
Don't Let Me Be Lonely Tonight In the past 35 years, I've been fortunate to always have been with someone special. This song reminds me of the six years where I was alone. Thanks JT.
Do You Believe in Magic? Here's a fun one from John Sebastian and the Loving Spoonful
El Condor Pasa: I'd rather be a hammer than a nail
End of the Innocence: Let your hair fall all around me and remind me of when I was an innocent
Fire and Rain: From JT's album of the same name. I saw him during his promo tour of this album back in 69. He had more hair then and Carole King was his opening act.
Four Strong Winds: I think by Ian Tyson, I've heard Neil Young do it
Gathering Dust A fine song by David Gray (Babylon). I think you'll enjoy it's simplicity
Girl From Ipanema: Stan Getz and Astrid Gilberto put Ipanema on the map with this bossa nova hit
Give Me One Reason: to stay here and I'll turn right back around. This song always reminds me of a friend named Rhonda
Good Night Irene: another standard
Grafton Street: My favorite Nanci Griffith song, reminds me of "someone"
Green Grass of Home: Not sure who wrote it but heard by Tom Jones. Also performed by Bobby Bare. Thanks for info, Ted Travis. Also thanks Dan Galade, this song was written by Curly Putman
Gulf Coast Highway: Nanci Griffith, love of my life
Heart of the Matter: Don Henley gets right down to the heart of the matter
Hey, Hey, Good Looking: Hank!
Hey Jude: The Beatles
Homeward Bound :and everyday's and endless stream of cigarettes and magazines....
Horse With No Name: If you have two fingers and a second fret, you can play this America classic
I'd Really Love to Be Here With You: England Dan and John Ford Coley hit the nail on the head for me with this song back in the 80s
If You Could Read My Mind: This is a Gordon Lightfoot classic. I heard him do this under the stars back in Concord, California, and it was magical...
I Got A Name: and that "name" is Jim Croce. He's really influenced my music a lot
I Go Walking After Midnight: Patsy Cline made walking in the dark fashionable
I'll Have to Say I Love You in a Song: Speechless again...and again...and again
I'll Follow the Sun: So what should one do when it's raining? Here's the answer
I'm Easy: by Keith Carradine. I heard this back in the 80s and was surprised that "Kung-Fu's" brother could sing
I'm On Fire: The Boss!
Into The Mystic: Van Morrison's classic. Post-"Gloria"
It's Too Late: Carole King's fine tune from the Tapestry album. It's got that nice "jazzy" sound that adds to your repertoire..."
I Will Remember You: Meet me at the Lilith Fair
Jamaican Farewell: First time I heard it was from Bellafonte
Johnny B. Good: Move over Beethoven, it's Chuck Berry
Kansas City, (here I come): Recorded by Wilbur Robertson (??) Harrison (??)
Knocking on Heaven's Door: Bob Dylan wrote. Guns n' Roses also did.
Lady in Red: This is a bit challenging to play and get the rhythm down, but once you do, it sounds good.
L.A. Freeway: Jerry Jeff Walker, heard him do this in Petaluma
LandslideStevie Nicks with that unmistakable voice
Leader of the Band This is one of Fogelberg's best. His blood runs through my instrument and his song is in my soul
Let it Be: The Beatles
The Look of Love: A very sensual and sexy rhythm. Try this one.
Lover's Cross : I never was much of a martyr before and I ain't 'bout to start nothing new
Love Has No Pride : When I hear Bonnie R. sing this, I believe it
Love Will Keep Us Alive : I just love Don Henly's songs. This is such a simple yet moving piece.
Mack the Knife: This is the classic hard guy song of the 60s. Bobby Darrin had a big hit with this one.
Margaritaville: Jimmy Buffet and his parrot
Matthew: When John Denver was asked which of his songs was most often requested, it was "Matthew."
Midnight Train from Georgia: Performed by GK and those Pip guys
Misty: I remember that nothing was more romantic than a Johnny Mathis album and your favorite girl. ' gives you an idea how old I am : )
Moon ShadowHere's a Cat Stevens classic. And if I ever lose my mouth...
Mr. Bo JanglesJerry Jeff Walker's most popular song. The Dirt Band made it famous.
Night Moves Ain't it funny how the night moves.....
Nobody Knows You When You're Down and Out: Eric Clapton, unplugged
Oh Susannah: a la James Taylor. Try it, it isn't that hard
Old Friends: From the Bookends album. How terribly strange to be 70
Old Time Rock n' Roll: Nobody does it like Bob Segar
Operator: The number on this matchbook is old and faded...This song is a finger picker's delight
Peaceful Easy Feeling: Eagles, again
Pretty Woman: Growwllll, Roy Orbison
Red River Valley: a smoochie old standard
Rhythm of the Rain: I've heard many versions of this over the years but the original by the Cascades is by far the best.
River: Garth Brooks at his best
Rocky Top: Another standard
Rosie: This is by Jackson Browne. Quite a description of her when 'she was sniffin' around like a half-grown female pup'
Save the Last Dance For Me: Once upon a time in America, kids went to dance with a date
Sandman: It's foggy outside and the planes, they have been grounded. About the time that the Sandman comes
Scarborough Fair: Remember the movie, 'The Graduate'? Great movie, great song.
She's Not There: Into something "kinky"?
Sioux City Sue: An old standard that I learned from an old guy in Iowa
Sister Goldenhair: In America, there are a lot of blondes!
Slip-sliding away: Here's one of my favorities by Rhymin' Simon
So Far Away: I first saw Carol King as an opening act for James Taylor (1970). This a great song. Nice chords.
Someday Soon: Judy Collins and Suzy Boggus recorded this
Stand by Your Man: Tammy Wynette and Billy Sherrill wrote it. Tammy recorded.
Straight From the HeartBryan Adams gives it to you straight.
Summer Breeze: I think I've always loved the sound of two part harmonies. Here's Seals and Croft blowing down the jasmine of your mind.
Sunny Came Home: Here's one for you Shawn Colvin fans.
Sunshine Superman Is it a bird? Is it a plane? No, it's that song by Donovan
Sweet Baby James From the Fire and Rain album
Take It Easy: Eagles and I think I heard Jackson Brown do it also
Til There Was You I love the chord progression in this song recorded by the early Beatles.
Time in a Bottle Croce is greatly missed. I remember that this song was the theme for "She Lives", a movie starring Season Hubley
To Make You Feel My Love: I first heard this when I saw the movie "Hope Floats". It's also recorded by Trisha Yearwood
Trouble in the Fields A fine song of courage and strength by Nanci Griffith and Ric West
Under the Boardwalk: A great song by the Drifters
Ventura Highway: In 1968 I met a southern California girl named Thana and we drove down the Ventura Highway. I remember jumping into the ocean with our clothes on and later having to meet her parents soaking wet. Made quite an impression
Wayward Wind: Who did this? Kitty Wells? If you know, email me. It was Gogi Grant! Thanks for the info from Ted Travis
Wedding Song (There Is Love): This is the probably most requested song I get for folks doing weddings, by Paul Noel Stookey
What's Forever For: Michael Murphy
Wildfire Since we're on Michael Murphy, here's a beautiful song. Sometimes transpose I it to an Amaj7 key.
Wild Montana Skies: John Denver.
Willow Weep For Me: During the British invasion of the sixties, Chad and Jeremy came over the seas with this great one.
You're Gonna Make Me Lonesome When You Go: Another Dylan song, recorded recently by Shawn Colvin
Your Song: This was Elton John, before the Crocodile Rock and the Lion King
You Were On My Mind: Here's one of the first songs I remember hearing as an adolscent that convinced me to learn to play the guitar.
YOUNG, NEIL ANTHOLOGY: This link is for ALL of the songs on the 'Neil Young: Unplugged Album.' I get so many requests for these songs that I thought I'd just add a whole page for it.

CLICK BELOW TO RETURN TO HOMEPAGE
GALEN'S SINGALONG PAGE: GUITAR CHORDS:

Does Galen "nezperce" write songs? You bet.
Galen's lyrics. Thirty years' worth. I can't write music but I play and sing.: Also included are notes of what I was thinking about when I wrote the songs. I find those notes the more interesting part